I've been so engrossed in non-fiction the last few months that I decided I should read some fiction that's been on my shelf and neglected for far too long. I had really been looking forward to these two dramatic stories, only to end up somewhat disappointed in the end.
I read Lauren Groff's Arcadia a few years ago and absolutely loved it, so I was really excited to get Fates and Furies right when it came out. Of course and uncommonly, I set it on the shelf and promptly forgot about it. I wish I had added this to my TBR Pile Challenge! Unfortunately, Fates didn't work for me as well as Arcadia. Fates is the story of Lotto and Mathilde, a couple who married spontaneously and faced challenges through their decades-long union, some typical and some extraordinary. I liked that the book was split in half and readers got to hear both "sides" of the story, first from Lotto and second from Mathilde. Groff is also a beautiful writer. Some of the prose is just stunning and a pleasure to take in. I think she's very inventive and imaginative with her characters as well. As for those characters, I personally wasn't crazy about them. Not that characters have to be likable for me to like the book. In this case, I guess I'm not really into stories of privileged elites right now, or of successful men carried by women. The names were just awful too, Lotto (short for Lancelot), Chollie?? Lotto and his sister call their mother "Muvva." I thought at first Chollie and Muvva were just the accent of the narrator but nope. Ugh. Pretentious. Well they are pretentious characters. There is a composer character in the book whose portrayal I completely hated and wasn't even a shred of close to realistic. I get that the book is supposed to sort of be Greek mythology but it was just too much for me. Mathilde had a very compelling story though, I really enjoyed her part and perspective, which is the "furies" second part of the book. I'm sure this kind of epic character-driven drama full of secrets is right up some readers' alleys, just not mine. I'd still like to read more by Groff though! [Listened to audiobook in June 2018.]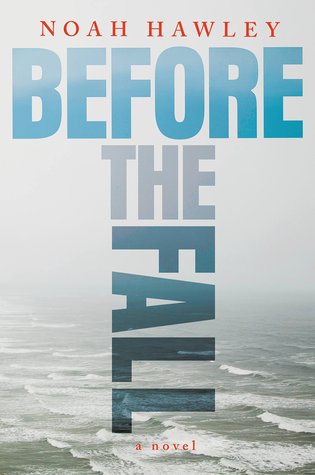 I ordered Before the Fall by Noah Hawley right after it was released because I'm a huge fan of the TV show Fargo, for which he is a producer. The premise is great: a private plane carrying eleven people—a Fox News-esque mogul, his family, and their security guard; a rich couple; the crew of 3; and an artist—crashes off the coast of Martha's Vineyard shortly after takeoff. 40-something artist Scott survives the crash, and rescues one of the children, the four-year-old son of the TV mogul. Everyone else perishes. The book alternates between Scott dealing with the event's aftermath, being an unwilling hero figure in the spotlight, and backstories on each of the plane passengers. How did the plane crash when all systems checked out before takeoff? What happened? Why? Was there a conspiracy to take down these rich and powerful people aboard? Who exactly is this Scott guy, and why was he aboard? It starts off as a good mystery and survival story, and most of the characters are rendered well (except the women, sadly, are one-dimensional). The ending though… yeesh. Too convenient and I think won't hold up well over time… it's hard to say much without spoiling. Despite the lame ending, there are a lot of great ruminations here on hero worship, wealth, power, media consumption, art, and luck. [Read in June 2018.] ***Before the Fall is my fourth of twelve books for the 2018 TBR Pile Challenge.