Anthony and my latest read for Best Friends International Book Club was Homegoing by Yaa Gyasi. Bonus: Homegoing was also on my 2018 TBR Pile Challenge list. Edited from the book jacket:
Two half sisters, Effia and Esi, are born into different villages in eighteenth-century Ghana. Effia is married off to an Englishman and lives in comfort in the palatial rooms of Cape Coast Castle. Unbeknownst to Effia, her sister, Esi, is imprisoned beneath her in the castle's dungeons, sold with thousands of others into the Gold Coast's booming slave trade, and shipped off to America, where her children and grandchildren will be raised in slavery. One thread of Homegoing follows Effia's descendants through centuries of warfare in Ghana, as the Fante and Asante nations wrestle with the slave trade and British colonization. The other thread follows Esi and her children into America. From the plantations of the South to the Civil War and the Great Migration, from the coal mines of Pratt City, Alabama, to the jazz clubs and dope houses of twentieth-century Harlem, right up through the present day, Homegoing makes history visceral, and captures, with singular and stunning immediacy, how the memory of captivity came to be inscribed in the soul of a nation.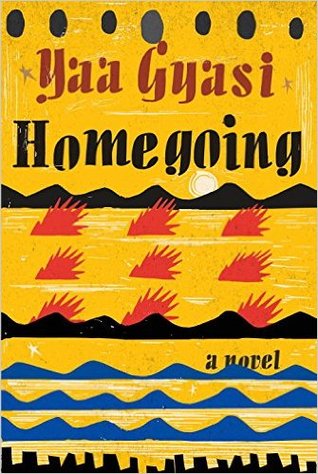 WHY why why didn't I read this right when I bought it, right when it came out? This is a BEAUTIFUL book. I was really fascinated by the subject matter so that's why I originally picked it up, but I usually struggle with narratives that are set too far in the past. But Gyasi's research for her debut novel is so extensive and her writing is so vivid that I became completely immersed within the first few pages. She managed to give three-dimensional life and personality to every character despite our only spending one chapter with each of them. Each chapter felt like its own short story but woven together created a rich, captivating tapestry.
I really enjoyed learning about Africa's parallel timeline over the last 250 years to America's (even if through a fictional novel). America's past (and lots of its present…) is horrific and shameful regarding its treatment of its black citizens. But  Homegoing doesn't play the "grass is greener" game. There's turmoil in Africa's past, too—wars, corruption, complicity in slavery (kidnapping and selling fellow Africans to British slave traders), cultural and social upheaval due to colonization and missionaries, ostracizing members of your own community, etc. No place, no country, no group of people on Earth is perfect. There are upsetting scenes throughout and Gyasi doesn't sugarcoat, but does have a sensitive touch handling difficult material.
Anthony pointed out some excellent quotes that illustrate how wonderfully Gyasi connects everything in the book: the countries, the family's separate generations, and real history. As I've grown as a life-long learner, I've definitely noticed this looking back on my grade school education (which I do feel was excellent, but there's so, so much missing from textbooks and curriculum, between factual events and different perspectives):
"We believe the one who has the power. He is the one who gets to write the story. So when you study history, you must always ask yourself, Whose story am I missing? Whose voice was suppressed so that this voice could come forth? Once you have figured that out, you must find that story too. From there, you begin to get a clearer, yet still imperfect, picture." (Yaw, to his students; 226–27)
I'm continuously sickened by the audacious privilege white people have enjoyed for centuries, in their feeling of entitlement to control everything and benefit, but are absolved from responsibility for any of the "bad stuff" resulting from their actions. These two quotes stood out to us:
"White men get a choice. They get to choose they job, choose they house. They get to make black babies, then disappear into thin air, like they wasn't never there to begin with, like these black women they slept with or raped done laid on top of themselves and got pregnant. White men get to choose for black men too. Used to sell 'em; not they just send 'em to prison like they did my daddy, so that they can't be with they kids. … Alls I can think is this ain't the way it's s'posed to be." (Willie, to Sonny; 262)

Originally, he'd wanted to focus his work on the convict leasing system that had stolen years off of his great-grandpa H's life, but the deeper into the research he got, the bigger the project got. How could he talk about Great-Grandpa H's story without also talking about his grandma Willie and the millions of other black people who had migrated north, fleeing Jim Crow? (Marcus; 289)
This last quote from page 289 continues, connecting the Great Migration to Harlem of the 1960s, to the "war on drugs" of the 1980s, to the Prison Industrial Complex… basically what you could learn all about in more detail in The New Jim Crow by Michelle Alexander (another excellent BFIBC pick). It's just a very succinct look at how the racial disparity and discrimination in the U.S. didn't just "happen." The system has been purposefully designed and re-shaped along the way to continue to operate in this function, but behind a more palatable facade.
In addition to the snapshots of very real history placed in the context of this one family's parallel journeys, the family itself is compelling. There is a family tree at the start of the book, which beyond being helpful to the reader, it also struck me how unfair it is that I get to see this family tree stretch back to the matriarch, Esi and Effia's mother, but the current generation, at least Marcus, the twenty-first-century American, will never be able to trace his lineage back to her, no matter how much research he does. His family has been broken and separated far too many times to get the full, clear picture. And I was so heartbroken by this knowledge, and even more saddened and outraged knowing for a fact that this travesty happened to countless families in America during slavery. I can't imagine the feeling of simply not knowing, of finding that at a certain point in the past, the path of your lineage just… vanishes. What does that do to your sense of identity? Reading Homegoing, both the America and Africa parts, I was reminded of articles of recent studies I've seen floating around online about how we carry trauma of our ancestors, close and distant, with us—it is psychologically transmitted across generations.
I loved this epic family saga, and I loved reading it with Anthony for our book club. Ok if I have one tiny complaint it's that the ending is a little tidy but whatever, I still cried. Homegoing is one of the most affecting and thought-provoking pieces of historical fiction I've read in a long time. I can't encourage readers enough to pick up this book.
We also discussed They Can't Kill Us Until They Kill Us (I've read it, Anthony was almost finished) and both LOVED it, and decided on our next BFIBC pick: The House of Impossible Beauties by Joseph Cassara. We're on a fiction bender for book club lately!
Homegoing is my third of twelve books read for the 2018 TBR Pile Challenge.
Read in March 2018.