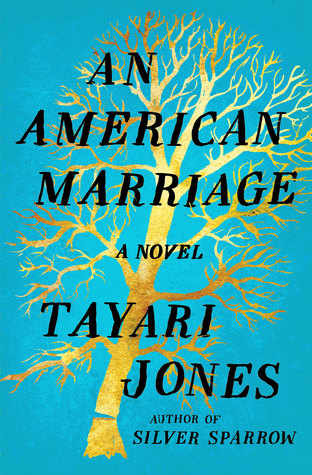 I had to see what was up with An American Marriage by Tayari Jones, the very hyped latest pick for Oprah's book club. Heavily edited from Goodreads:
Newlyweds Celestial and Roy are the embodiment of both the American Dream and the New South. He is a young executive and she is an artist on the brink of an exciting career. But as they settle into the routine of their life together, they are ripped apart by circumstances neither could have imagined. Roy is arrested and sentenced to twelve years for a crime Celestial knows he didn't commit. Though fiercely independent, Celestial finds herself bereft and unmoored. As their time apart passes, Celestial is unable to hold on to the love that has been her center. After five years, Roy's conviction is suddenly overturned, and he returns to Atlanta ready to resume their life together.

There's a lot to unpack in this story, which is fictional but undoubtedly all too real for many families. It's a love story at its core, but through the lens of a tragically common situation black Americans face today. I'm not surprised Oprah (and probably many others) picked this for book club—it makes for excellent discussion. How can black Americans achieve the American dream when they have to be twice as good and work twice as hard for it, when their achievements don't protect them at all from persecution and discrimination? What about loyalty, or conditional vs. unconditional love? How do partners handle life-altering, stressful, major life events in their marriage? Does absence truly make the heart grow fonder? And more, like dealing with the stigma families deal with when one of their own is or has been incarcerated, nature vs. nurture, fathers and sons, etc.
I'm happy I listened on audio. The actors, Sean Crisden and Eisa Davis, did a fantastic job performing these characters and giving them depth, especially during the epistolary first half of the novel. Their delivery and emotion gave Roy and Celestial life; I felt almost like I was experiencing a play in person rather than listening to a book. That's also a testament to Jones's wonderful storytelling. My one tiny complaint is that the ending was just a touch too tidy for me, but it (along with the rest of the story) was completely believable.
An American Marriage lived up to the hype for me. Life isn't strictly black and white, people are complex and flawed and both good and bad. It's a powerful story about love, being human, being black in America, familial relationships, friendships, and reacting/recovering after the universe unexpectedly slaps you in the face and upends your life.
Listened to audiobook in March 2018.