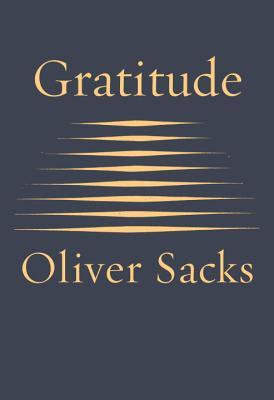 Yesterday I spent an embarrassing amount of time on Overdrive hunting for new audiobooks to listen to (seriously I think I had 100 tabs to different books open at one point). Gratitude by Oliver Sacks caught my attention, as I remember enjoying reading Musicophilia several years ago. (Although looking back at my review, I was pretty critical of that book at the time!) Edited from Goodreads:
No writer has succeeded in capturing the medical and human drama of illness as honestly and as eloquently as Oliver Sacks. During the last few months of his life, he wrote a set of essays in which he movingly explored his feelings about completing a life and coming to terms with his own death. Together, these four essays form an ode to the uniqueness of each human being and to gratitude for the gift of life.
This is a very brief collection (36 minutes on audio) but it was filled with profound insight into a life lived, and lived well at that. All the pieces are lovely and moving. In "The Joy of Old Age" (or "Mercury") from July 2013, Sacks looks back at his professional accomplishments and looks forward to his ninth decade of life. "My Own Life," from February 2015, is his announcement of having terminal cancer, which began as a melanoma in his eye nine years earlier but had metastasized in his liver. Though the end is near, he has not given up on life and is determined to make the most of the few months(?) he has left.
When people die, they cannot be replaced. They leave holes that cannot be filled, for it is the fate—the genetic and neural fate—of every human being to be a unique individual, to find his own path, to live his own life, to die his own death. I cannot pretend I am without fear. But my predominant feeling is one of gratitude. I have loved and been loved; I have been given much and I have given something in return; I have read and traveled and thought and written. I have had an intercourse with the world, the special intercourse of writers and readers. Above all, I have been a sentient being, a thinking animal, on this beautiful planet, and that in itself has been an enormous privilege and adventure.
In "My Periodic Table," July 2015, he talks about his interest in minerals and metals, and how they relate to his life and cancer treatments, and how the treatments were making him feel physically and emotionally. The final essay, "Sabbath," published just a couple weeks before his death in August 2015, is a tender reflection on purpose and meaning in life. I was inspired by his positivity and gratefulness, his wise perspective and unwavering curiosity, and his gentle voice in this collection.
And now, weak, short of breath, my once-firm muscles melted away by cancer, I find my thoughts, increasingly, not on the supernatural or spiritual, but on what is meant by living a good and worthwhile life—achieving a sense of peace within oneself. I find my thoughts drifting to the Sabbath, the day of rest, the seventh day of the week, and perhaps the seventh day of one's life as well, when one can feel that one's work is done, and one may, in good conscience, rest.
Oliver Sacks was a remarkable human being who made a difference in the lives of his patients and their families, his colleagues, and his readers. I should definitely read more of his books in the future.
Listened to audiobook in February 2018.