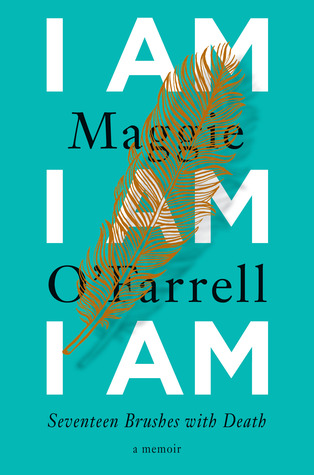 I saw I Am, I Am, I Am by Maggie O'Farrell on one of the what-to-read-in-February lists online last month, and immediately put it on hold on my library app. I love memoirs and I was intrigued by this unconventional look at very specific experiences in this writer's life. Edited from Goodreads:
I Am, I Am, I Am is a memoir with a difference—the unputdownable story of an extraordinary woman's life in near-death experiences. Intelligent, insightful, inspirational, it is a book to be read at a sitting, a story you finish newly conscious of life's fragility, determined to make every heartbeat count. A childhood illness she was not expected to survive. A teenage yearning to escape that nearly ended in disaster. A terrifying encounter on a remote path. A mismanaged labour in an understaffed hospital. Shocking, electric, unforgettable, this is the extraordinary memoir from Costa Novel-Award winner and Sunday Times bestselling author Maggie O'Farrell. It is a book to make you question yourself. What would you do if your life was in danger, and what would you stand to lose?
I hadn't read Maggie O'Farrell's work before (confession: hadn't heard of her before) reading this memoir. I was really spellbound by her beautiful writing, which simultaneously conveys rationality and an emotional rawness in these often harrowing vignettes. The first story was easily my favorite and one of the most chilling. Here's the first sentence: "On the path ahead, stepping out from behind a boulder, a man appears." NOPE. My heart literally raced while listening to this opener. As a woman, this resonated so deeply with me because things like this have happened to me. Granted and fortunately, no man ever interacted with me the way O'Farrell describes she was in this piece, but that doesn't make my feelings when I've seen a strange man staring at or following me any less frightening.
I realized quickly that perhaps my expectations were too high going in—seventeen brushes with death?? O'Farrell's either extremely lucky or unlucky (or a bit of both). But some experiences were definitely more true to near-death than others: a machete held at her neck during a robbery and almost bleeding out while delivering her first baby bring a person much closer to death than taking an STD test. The momentum lulled just slightly for me in the middle, as there was a little repetition (more than one drowning story), but the last few chapters were utterly heartbreaking and captivating, especially the final one about her daughter's anaphylaxis and life-threatening allergies. Despite the brief ebb in the middle, I thought this book was a perfect length—easily devoured in a sitting or two.
There are so many amazing-looking books coming out this month and I Am, I Am, I Am definitely lived up to the hype for me. I really admired O'Farrell's resilience, gratitude for her life, and generally optimistic outlook, all things considered.
Listened to audiobook in February 2018.