It's the latest edition of Best Friends International Book Club! To the left is a screenshot I snapped, that's me laughing in the lower corner at Anthony's antics. I love our little club!
Anthony and I had a lively discussion over Skype last week. In addition to our two main books, we talked a little bit about Into Thin Air, which I had read twice already and loved, and Anthony had just finished for the first time. And we actually stayed on topic pretty well! I'm really happy we chose a fiction. I've been in a slump lately, and for some reason reading a novel snapped me out of my funk just a little bit and I'm grateful. Maybe I just need an outlet for mental escape at the moment and I'm more in a TV mode lately than reading. Anyway! On to our thoughts on these two fantastic books:
The Glass Castle by Jeannette Walls has been on my list for a very long time. I think at one point in grad school I even "borrowed" (read: stole) my mom's copy for a while… only to return it eventually, unread, during some apartment move. With the new movie version out this rocketed back up to the forefront of my radar. I found it hard to put down, despite many emotionally difficult parts, mostly dealing with Walls's neglectful parents. She recalls some truly disturbing moments from her poverty-stricken, nomadic childhood, including lack of adequate food and shelter. Glass Castle is an affecting look at addiction and mental illness. It's clear throughout that her parents loved their children, but her father's alcoholism and her mother's manic depression dictated their lives. I found Walls's writing to be even-tempered, coming across as almost neutral to her upbringing. She seemed (publicly in this memoir, at least) to be rather non-judgemental of her parents, and I think this may have helped the narrative. I was never put off by having to read through self-pitying diatribes or complaints, because there wasn't any here. Anthony posed some excellent questions we ruminated on: What do you think is the larger takeaway The Glass Castle? Maybe it's overcoming adversity, maybe a message about addiction and mental illness, maybe familial bonds, maybe reading a tough, depressing story like this makes us feel better about ourselves, maybe everyone has a story to tell? Or maybe nothing, it just is? Also, we wondered about Walls's privilege to be able to tell her story, softly comparing it to another BFIBC book we read earlier, Charles Blow's Fire Shut Up in My Bones (brought up in rural poverty, overcomes odds to become journalist), although we both agreed we liked Glass Castle a little better in general. I watched the movie adaptation a couple months ago and liked it, Woody Harrelson is brilliant, but it does change and dramatize some things to achieve a standard Hollywood storyline, as adaptations do. [Read in December 2017.]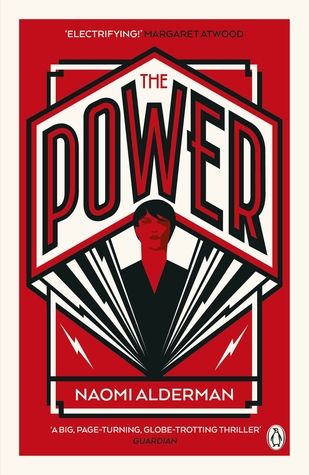 I can't remember exactly how I found out about Naomi Alderman's The Power… maybe when it won the 2017 Baileys Women's Prize for Fiction. The story is incredibly clever: what would happen if all of a sudden gender roles were reversed and women, not men, were the ones who held physical, political, and social power? Alderman explores this concept filtered through a handful of main characters as they navigate this new world where women and girls have discovered an newly awakened deadly, electric physical ability. It covers rape culture, religion, terrorism, politics, and more, all while turning gender norms and expectations upside down. At first, I felt empowered reading about these women finding a strength within and taking charge, but after a while I became uncomfortable rooting for them."Absolute power corrupts absolutely," as the saying goes. Don't get me wrong, I hate the stereotype/expectation that women are supposed to be pure, innocent, perfect little angels. Women are not necessarily less corrupt or violent than men, generally speaking. Anthony had a great point about how "the power" in this book wasn't always about the obvious evolutionary electric power in girls and women, but also different kinds of power like political power, physical beauty, and manipulation. There are some striking statements, though, like when the power was first becoming known, boys are advised to go out in groups and not to walk alone at night, boy babies are being aborted, etc. Yes of course you don't walk alone at night! As a woman I've been indoctrinated to this. But I never thought of the possibility of men having to live in fear for their bodily safety no matter where they are or what time it is, and being taught to take these kinds of precautionary actions. It made me angry that this never occurred to me before. Anthony also posed the question: Who is Alderman's intended audience, women? Men? Both? Because it was really interesting to read and discuss this with a person of the opposite-identifying gender, for both of us. This would be an amazing movie, or long-form episode of Black Mirror! [Read in January 2018.]
Our next choices for BFIBC are The Left Hand of Darkness by Ursula K. Le Guin, which we chose after hearing of her death last week. I'm a few chapters in already and to be honest, I have no idea who anyone is or what the hell is going on. I really struggle getting into this kind of deeply complex sci-fi fantasy, it's not really my thing, so we'll see how it goes. I might have to DNF. Our second choice is pending at the moment… we both happen to have copies of David Bowie Made Me Gay by Darryl W. Bullock, but in February I'd like to consciously choose books written by black authors (I'll finish whatever I'm in the middle of, but for my new reads for the month). Stay tuned!