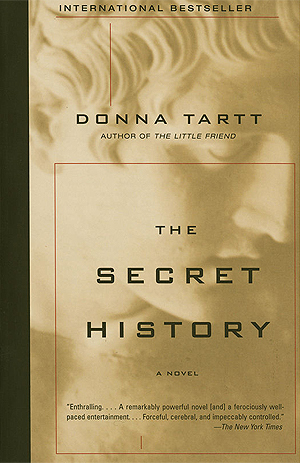 The Secret History by Donna Tartt is one of those books that has consistently ended up on most-recommended and most-favorite lists for as many years as I've been paying attention to the book world online, and probably since it came out in 1992. I've passed it over at bookstores for years—it's a chunkster so I was always intimidated—but several people were recently talking about it on Litsy and I noticed it on audio through my library app and decided to finally give it a shot. Edited from Goodreads:
Under the influence of their charismatic classics professor, a group of clever, eccentric misfits at an elite New England college discover a way of thinking and living that is a world away from the humdrum existence of their contemporaries. But when they go beyond the boundaries of normal morality they slip gradually from obsession to corruption and betrayal, and at last—inexorably—into evil.
I enjoyed The Secret History overall. It kind of reminded me of A Separate Peace on steroids (or rather, cocaine? It's set in the 1980s, after all). A bunch of students who are too intellectually big for their britches kill one of their classmates (not a spoiler, it's the first paragraph). The rest of the novel you get to know these characters and the why and how is slowly unveiled, as well as how they met and the progression to the killing and its aftermath.
I'm not sure the blurb there is entirely accurate. I don't recall the "charismatic" classics professor to be so influential, and it seemed to me that the group of friends weren't so much "clever, eccentric misfits" as pretentious, haughty, elitist assholes. I will say that I totally believed that a group of early-twenty-somethings studying a lofty subject such as the Classics at an exclusive private college would fall into a mindset of superiority over their peers.
The kids are extremely obnoxious and unlikable. And maybe they forgot they're KIDS, but I didn't. They don't drink beer; they drink mixed cocktails or whiskey neat. They don't smoke pot; they do cocaine or other pills. They go on lavish vacations to Italy and stay in palaces. They go to a "cottage" to "get away" but it's really a massive Victorian on the New England coast. There's a lot of bullshit philosophical discussion and condescension among themselves. They're not even all that interesting, personality-wise; in fact, they're quite bland. Not that I need characters to be likable in what I read or watch, but these kids were just over the top! It was fascinating to see them dig themselves deeper into a dark situation of their own making, and seeing their over-the-top, imagined superiority unravel spectacularly. I wish the young woman character wasn't just a love interest for the rest of the group, as is so often in ensembles like this.
While I did generally like it, I do think the book was too long—lots of scenes from the second half could have been cut. I've said it before that when the twist is revealed ahead of time (like here, in the first paragraph) and then the story is "told" from a perspective after the fact rather than "shown" in the moment, some of the suspense ends up lost on me. But it did have me curious, and Tartt's writing is atmospheric and superb. She covers so many different aspects of friendship here, from how it feels to be accepted to the disintegration of a friendship, what you'd do and how far you'd go for a friend, I have The Goldfinch on my e-reader and I swear one day I'll get to it! But thanks to The Secret History, Goldfinch has inched a little higher on my TBR.
Listened to audiobook in October 2017.