I was dealing with an international move last June, so I felt like I needed some levity during a time of stress (and excitement, of course). I also drove between Kansas City and Madison twice in that month, so audiobooks were in order! Here are two humor books I listened to on audio during that crazy month: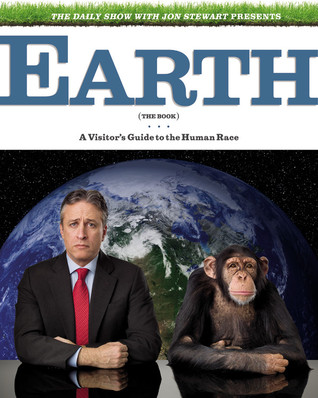 After listening to America: The Audiobook in August 2015 I've had Earth (The Book): A Visitor's Guide to the Human Race by Jon Stewart, et al on my list. I'm sure I missed some of the visual gags listening on audio instead of reading on paper, but this one had the same great performances by The Daily Show alumni with the same great irreverent, sarcastic, biting humor I expected. Although I didn't find it quite as consistently laugh-out-loud as America, Earth was another fine lighthearted roadtrip selection. I still miss Jon Stewart on Daily Show (although I love Trevor Noah now, too!)
The short story collection A Load of Hooey is Bob Odenkirk's authorial debut. When I say short I really mean short—if I recall correctly, the audiobook was less than three hours long, even. As with all short story collections, there are some hits and misses, some memorable and some forgettable. A year later there are a handful of stories I remember liking a lot: "One Should Never Read a Book on the Toilet," "Didn't Work for Me," "Obit for the Creator of Mad Libs," "Abs," "Origin of 'Blackbird'," and "Second Meeting of Jesus and Lazarus." Many of these selections are seemingly random soliloquies that read like sketches, and if you like Bob Odenkirk's offbeat Mr. Show humor you'll like Hooey—it's a fun way to pass a couple hours.
Listened to audiobooks in June 2016.