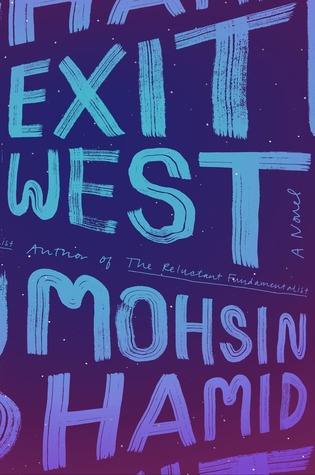 I've been looking forward to picking up Exit West by Mohsin Hamid ever since I first heard about it. I enjoyed his last one, How to Get Filthy Rich in Rising Asia, a few years ago, and just look at that gorgeous cover! Unfortunately, this did quite live up to the hype for me. From Goodreads:
In a country teetering on the brink of civil war, two young people meet—sensual, fiercely independent Nadia and gentle, restrained Saeed. They embark on a furtive love affair and are soon cloistered in a premature intimacy by the unrest roiling their city. When it explodes, turning familiar streets into a patchwork of checkpoints and bomb blasts, they begin to hear whispers about doors—doors that can whisk people far away, if perilously and for a price. As the violence escalates, Nadia and Saeed decide that they no longer have a choice. Leaving their homeland and their old lives behind, they find a door and step through.
Exit West follows these characters as they emerge into an alien and uncertain future, struggling to hold on to each other, to their past, to the very sense of who they are. Profoundly intimate and powerfully inventive, it tells an unforgettable story of love, loyalty, and courage that is both completely of our time and for all time.
I loved the premise. I thought Hamid does get a powerful message across by leaving the country Saeed and Nadia are fleeing unnamed—it could be any country. Also, giving the characters in Exit West names, personalities, and backstories read loud and clear to me as a personal, worldwide problem, shattering negative stereotypes people (read: Westerners) may have about refugees. Nadia is great. I felt she had the most individuality and "real" personality of all the characters. I found the first half of the book much stronger than the second, when Saeed and Nadia meet and develop a relationship, and the circumstances of changing daily life in their war-torn country is illuminated for readers.
The second half, however, lost momentum for me. I thought the magical realism element of the portal doors was clever, but didn't translate for me so well. I get that maybe they serve as a metaphor for globalization, with some doors being guarded and others not, and the ubiquity of the Internet making the world feel more connected and smaller. Maybe Hamid didn't want to make this a "quest" story. But leaving out the perilous, harrowing journey refugees take to find asylum took away a sense of urgency and danger due to the war. At first, I was enchanted by Hamid's prose—there are many achingly beautiful passages—but by the second half, his extremely long run-on sentences became detrimental to the storytelling when it took a speculative turn into magical realism. My mind would wander, I'd lose track of what was happening, and I'd have to go back and re-read trying to insert periods and separate out these paragraph- or page-long sentences.
Exit West was middle-of-the-road for me. Again the first half is gorgeous, and I will remember Nadia and being gripped by a country slowly-then-all-at-once devolving into violent civil war. But the second half for me… meh. I'm still interested in trying Hamid's The Reluctant Fundamentalist, which I have on my iPad and will get around to eventually!
Read in April 2017.