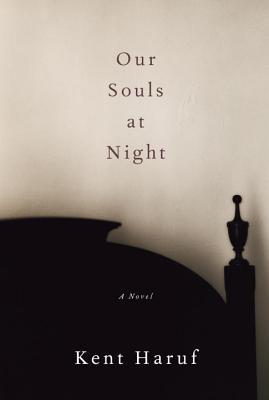 Over Labor Day weekend, I decided to have a mini-readathon with the three short books that all happened to come through at the library for me at the same time. First up was Our Souls at Night by Kent Haruf. From Goodreads:
In the familiar setting of Holt, Colorado, home to all of Kent Haruf's inimitable fiction, Addie Moore pays an unexpected visit to a neighbor, Louis Waters. Her husband died years ago, as did his wife, and in such a small town they naturally have known of each other for decades; in fact, Addie was quite fond of Louis's wife. His daughter lives hours away in Colorado Springs, her son even farther away in Grand Junction, and Addie and Louis have long been living alone in houses now empty of family, the nights so terribly lonely, especially with no one to talk with.
A lot of other reviews use the words "bittersweet" and "sad" to describe this book, and I definitely agree. Haruf does an amazing job of bringing out the feelings of loneliness, and our innate need for intimacy and companionship. The prose is spare and simple, but beautifully constructed. It was a perfect little book (only about 170 pages) for a readathon, and a touching story about not giving up on your future and really living, no matter your age. Their conversations were heartbreaking sometimes, but their bravery in starting a new chapter at their age was inspiring.
I think though, I had trouble with how quickly Addie and Louis's relationship moved—just didn't find it all that believable. I also struggled with the behaviors and attitudes of their adult children… if you read it you'll see what I mean.
Our Souls at Night was worth reading for me, though, but probably because it was so short. This was my first and only Haruf read, and I'm not sure it affected me so much to want to read more of his books. Maybe you need to be an established fan to appreciate this one more than I did. I also think I'm riding a non-fiction wave right now and fiction just isn't doing it for me in general at the moment.
Read from September 4 to 5, 2015.