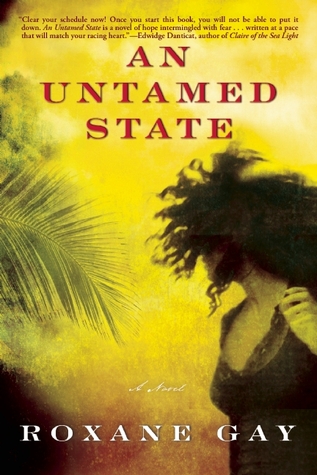 After reading Bad Feminist and seeing this one all over "best of" lists last year, I knew I had to read Roxane Gay's An Untamed State. From Goodreads:
Mireille Duval Jameson is living a fairy tale. The strong-willed youngest daughter of one of Haiti's richest sons, she has an adoring husband, a precocious infant son, by all appearances a perfect life. The fairy tale ends one day when Mireille is kidnapped in broad daylight by a gang of heavily armed men, in front of her father's Port-au-Prince estate. Held captive by a man who calls himself The Commander, Mireille waits for her father to pay her ransom. As it becomes clear her father intends to resist the kidnappers, Mireille must endure the torments of a man who resents everything she represents.
What a powerful, harrowing book. The brutal violence during Miri's captivity took my breath away—it reads like a bona fide thriller. Scenes flashing back to Miri's childhood and marriage are interspersed throughout the first part, letting the reader get to know all the players better and Miri's mindset before her 13-day ordeal began. (That's one shining light for the reader—you know she will be freed after 13 days. Miri does not, though.) The second half of the book covers the aftermath of the event—Miri's fragile, volatile mental and emotional health as a result of the physical and psychological trauma she endured. Not only Miri suffers during and after her kidnapping, her family does as well. They all have to reconcile with what happened to her and find a "new normal" somehow.
I do believe An Untamed State lives up to the hype—it makes a mighty impression and is not a story you'll soon forget. However, for me personally, I found the characters to be generally unlikable. I don't need all my protagonists in entertainment to be likable, I just got the impression we're supposed to like Miri and her husband. They're supposed to be great star-crossed soulmates or something, but their overall mutual unkindness to each other and immaturity was unappealing to me. I think I would have liked more insight into the socioeconomic, political, and cultural context within this story—Miri's privilege over her captors and Haitians living in abject poverty is mentioned but not discussed in depth.
An Untamed State delves deep into the very real issue of rape and violence against women that are rampant in societies all over the world. I don't think I've ever read anything so thoughtfully bold on the subject. The sheer terror and fear Miri felt, both during and after her kidnapping, were palpable. Gay doesn't hold back on the shocking sexual and physical atrocities committed on Miri, which may be more than some readers can stomach, but sticking through the whole book is worth it.
Read from August 7 to 23, 2015.