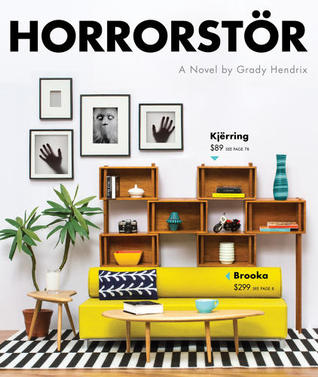 Here's one I picked up on a whim from the library, after hearing from a friend he recently enjoy it: Horrorstör by Grady Hendrix. From Goodreads:
Something strange is happening at the Orsk furniture superstore in Cleveland, Ohio. Every morning, employees arrive to find broken Kjerring bookshelves, shattered Glans water goblets, and smashed Liripip wardrobes. Sales are down, security cameras reveal nothing, and store managers are panicking. To unravel the mystery, three employees volunteer to work a nine-hour dusk-till-dawn shift. In the dead of the night, they'll patrol the empty showroom floor, investigate strange sights and sounds, and encounter horrors that defy the imagination.
Obviously a play on our big-box IKEA stores, Horrorstör is part horror, part satire. And the design on this book is fantastic! It had the exact look and feel of an IKEA catalog, complete with graphic diagrams and enthusiastic copy for each featured furniture item. The first and second halves are starkly different—Hendrix starts it off as a humorous, sarcastic take on the daily grind of working retail. The characters are fairly stereotypical, but they do show some growth and you find yourself rooting for them. I enjoyed the mystery part in the middle that bridges the satire to the straight-up paranormal horror in the second half. I loved the "ancient burial ground" inspiration for this one.
Horrorstör is a bit on the predictable side and not the scariest thing I've ever read, but it's a fun and quirky spookfest if you're looking for a quick, entertaining read.
Read from June 18 to 28, 2015.