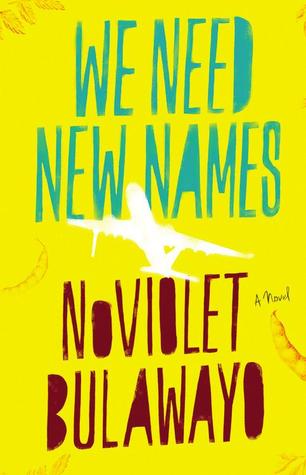 Onward with my ebook challenge! Book no. 4 is We Need New Names by NoViolet Bulawayo. Edited from Goodreads:
Darling is only ten years old, and yet she must navigate a fragile and violent world. In Zimbabwe, Darling and her friends steal guavas, try to get the baby out of young Chipo's belly, and grasp at memories of Before. Before their homes were destroyed by paramilitary policemen, before the school closed, before the fathers left for dangerous jobs abroad. But Darling has a chance to escape: she has an aunt in America. She travels to this new land in search of America's famous abundance only to find that her options as an immigrant are perilously few.
I read through this quickly over a weekend, so it perhaps didn't quite have the greatest impact on me?? The difficulties and suffering that do exist in this book just didn't resonate with me as much as I would have expected. I had a little trouble with the vocabulary (neighborhoods in the Zimbabwe town called "Budapest" and "Paradise" tripped me up at first, stuff like that). It could be the short story vibe of this one—while not really a short story collection, many of the chapters could be stand-alone and overall it felt like several events linked together rather than one long narrative. That's just me though, short stories aren't exactly my thing. Still a good read, though, and I'm glad I finally got around to it.
Bulawayo's characters feel very real, at least some of them do, and for sure Darling is a dynamic and interesting character. Darling, at just 10 years old, is opinionated and funny, with a toughness right off the bat that has you rooting for her all the way through the book, and you witness her growth in how her voice distinctively changes as a teenager in the States. The first half was raw and gritty and heartbreaking, but the second half, when Darling is older in America, really drives the points home of "different similarities" between coming of age in Africa vs. the United States. Despite the tragedy and horrors they faced in Zimbabwe as children, they are still hopeful and dream of better futures for themselves.
We Need New Names might have a few too many elements in it—immigration, culture shock, coming of age, world relations, poverty, etc.—but Bulawayo does tie them together in a meaningful, cohesive way, and creatively through the eyes of Darling.
We Need New Names is my fourth of twelve books read for my Ebook Challenge.
Read from June 19 to 22, 2015.