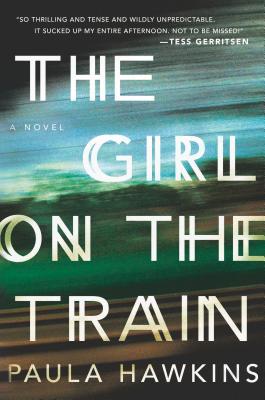 Had to see what the hype was about with The Girl on the Train by Paula Hawkins! From Goodreads:
Rachel takes the same commuter train every morning. Every day she rattles down the track, flashes past a stretch of cozy suburban homes, and stops at the signal that allows her to daily watch the same couple breakfasting on their deck. She's even started to feel like she knows them. "Jess and Jason," she calls them. Their life—as she sees it—is perfect. Not unlike the life she recently lost.
And then she sees something shocking. It's only a minute until the train moves on, but it's enough. Now everything's changed. Unable to keep it to herself, Rachel offers what she knows to the police, and becomes inextricably entwined in what happens next, as well as in the lives of everyone involved. Has she done more harm than good?
The Girl on the Train, for me, does live up to the hype, and does jive with certain aspects of Gone Girl (to which it has been frequently compared), but while The Girl on the Train wasn't 100% a Gone Girl redux for me, I did enjoy this fast-paced psychological drama. I had a similar reading experience for both these books—the suspense, the unreliable narrators, and the need to keep going after every chapter to find out what happens. Gone Girl was more shocking and The Girl on the Train a little more predictable, but that doesn't take away from the enjoyment of the novel.
The characters are not exactly likable, or even necessarily sympathetic. With the shifting narrative perspectives it's hard to know whom to believe at times. Everyone has their version of the truth or how things happened (in this book and IRL!). The Girl on the Train is full of assumptions that lend themselves to the suspense and twists and turns of the book well. I had an inkling of what was going to happen in the finale, but not all figured out ahead of time. Everyone's just so messed up—anxiety, insecurity, guilt, paranoia—any one of them could be capable of anything.
Read from May 2 to 8, 2015.