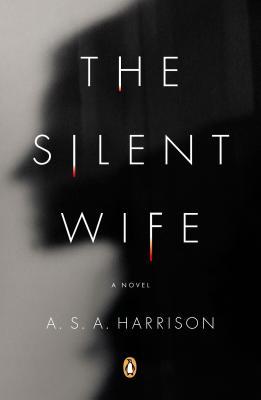 I received a copy of The Silent Wife by A. S. A. Harrison from a friend several months ago (a year?) and finally decided to read it in March, being a perfect fit for the KC Library Love on the Rocks Adult Winter Reading Program. From Goodreads:
Jodi and Todd are at a bad place in their marriage. Much is at stake, including the affluent life they lead in their beautiful waterfront condo in Chicago, as she, the killer, and he, the victim, rush haplessly toward the main event. He is a committed cheater. She lives and breathes denial. He exists in dual worlds. She likes to settle scores. He decides to play for keeps. She has nothing left to lose. Told in alternating voices, The Silent Wife is about a marriage in the throes of dissolution, a couple headed for catastrophe, concessions that can't be made, and promises that won't be kept. Expertly plotted and reminiscent of Gone Girl and These Things Hidden, The Silent Wife ensnares the reader from page one and does not let go.
I know I'm not the first to say it, and I totally agree—the comparisons to Gone Girl are way off. Sure, it's a messed up marriage, like in Gone Girl. But The Silent Wife is less thriller than Gone Girl, for starters. While the final "act" is set up in the blurb above (and I kind of wish the blurb hadn't given that away), Jodi and Todd are less conniving and sociopathic  than Amy and Nick, but still pretty awful to each other. Psychology is a huge element in this novel, with Jodi even being a psychologist herself. There were plenty of twists and turns in the story but I saw a few of them coming, and the ending wrapped up just a little too neatly for me.
This was deliciously dark fiction, though, with plenty of sinister moments, and Harrison's writing style and pacing keeps you turning the pages for more. I loved how she made Chicago another character in the story, mentioning specific locations, however, the language wasn't quite right for Chicagoans in spots. I didn't grow up in Chicago but I've been many, many times to visit family there, and never once have I heard anyone I know from Chicago say "hell's bells." This would make a great book club choice, since there's a lot to discuss: cheating and what you do or don't do about it, what a marriage looks like after 20+ years, childhood trauma, and so on. The Silent Wife came out a couple of years ago so I'm sure many have read it already, but I don't want to give out spoilers!
Basically it was a good book—not quite great, but still an enjoyable read if you're into dark fiction about marriages and interpersonal relationships. I was sorry to find out later that Harrison died right before The Silent Wife was published, making it her only novel. I would have been interested to read more from her as she developed her style and voice past her debut.
The Silent Wife is my fifth book of five for the KC Library's Love on the Rocks Adult Winter Reading Program.
Read from March 15 to 20, 2015.