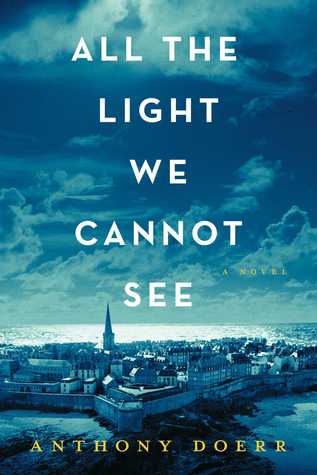 All the Light We Cannot See by Anthony Doerr has been a hot book since last summer, and has been on my radar ever since several bloggers I follow started raving about it. This past Christmas I got a copy as a gift, and once I saw Katie at Words for Worms was having a readalong I decided to get to reading it next. From Goodreads:
Marie-Laure lives with her father in Paris near the Museum of Natural History, where he works as the master of its thousands of locks. When she is six, Marie-Laure goes blind and her father builds a perfect miniature of their neighborhood so she can memorize it by touch and navigate her way home. When Marie-Laure is twelve, the Nazis occupy Paris, and father and daughter flee to the walled citadel of Saint-Malo, where Marie-Laure's reclusive great-uncle lives in a tall house by the sea. With them they carry what might be the museum's most valuable and dangerous jewel.
In a mining town in Germany, the orphan Werner grows up with his younger sister, enchanted by a crude radio they find. Werner becomes an expert at building and fixing these crucial new instruments, a talent that wins him a place at a brutal academy for Hitler Youth, then a special assignment to track the resistance. More and more aware of the human cost of his intelligence, Werner travels through the heart of the war and, finally, into Saint-Malo, where his story and Marie-Laure's converge.
You guys… I don't know. I wanted to love this so much. I typically enjoy historical fiction, and I really thought this was up my alley. Unfortunately, All the Light just didn't hold my attention very well. Maybe it was the slow start, maybe it was the length, maybe it was the short (even one-page short, sometimes) chapters, the time-jumping, the alternate perspectives, maybe it was just the timing of this read for me (lots of work/life stuff on my mind at the moment), but I just never got into it.
That said, I loved Marie-Laure. What a great character, as well as her family! I loved the relationship she had with her father, Daniel, and with her great-uncle Etienne. I loved that Daniel was so protective of his daughter, that he didn't pander to her blindness and dumb things down. Despite her disability, she was able to achieve many great things (usually because she had to, but still). I could have read one book just entirely on Marie-Laure's story. Werner was a brilliant, conflicted character, but again his storyline somehow just didn't compel me as much. How is that possible!? The premise is so amazing! Sigh. I wanted more about Werner's sister, Jutta. She was a dominating presence in his thoughts but barely in the book at all.
The Sea of Flames (the jewel)… yeah. Again, great premise, but just fell short for me. I just didn't care about Von Rumpel's quest to find the gem or his obstacles along the way; it all felt like "extra" stuff to me. I wanted to get back to Marie-Laure!
However! All the Light is indeed beautifully written, and I believe it does deserve its many accolades. If you love slow-burning historical fiction, and stories set in Europe during World War II, you'll like this one.
Read from February 1 to 12, 2015.