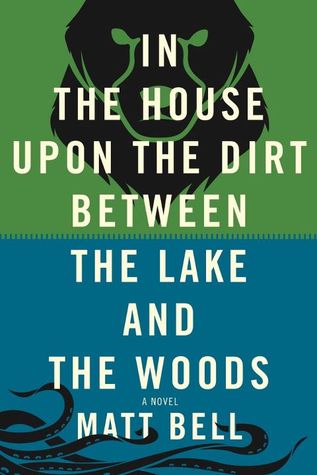 After seeing it reviewed by Rory at Fourth Street Review, In the House upon the Dirt between the Lake and the Woods by Matt Bell has been on my radar. A few weeks ago, it became available on audio through my library. From Goodreads:
In this epic, mythical debut novel, a newly-wed couple escapes the busy confusion of their homeland for a distant and almost-uninhabited lakeshore. They plan to live there simply, to fish the lake, to trap the nearby woods, and build a house upon the dirt between where they can raise a family. But as their every pregnancy fails, the child-obsessed husband begins to rage at this new world: the song-spun objects somehow created by his wife's beautiful singing voice, the giant and sentient bear that rules the beasts of the woods, the second moon weighing down the fabric of their starless sky, and the labyrinth of memory dug into the earth beneath their house.
This is a tough book to review! I was very intrigued by the darkness of the premise, and though I felt like giving up a few times I'm glad I ultimately stuck it out. In the House has so many converging elements, including magical realism, horror, folklore… even some action and mystery thrown in. "Mythical" is just about the perfect word to describe it overall, too. The breakdown of the couple's marriage is painful, the husband's descent into fury is kind of frightening, even. It just made me think, how far is this man going to go? Is this even about having children anymore? It was really thought-provoking. Charlie Thurston narrated this audio version, and I had to set it to 1.5x speed—normal was just a little lethargic for me! But the clip of his voice at 1.5x made the poetic nature of the prose much more theatrical.
I don't think In the House is for everyone—ratings on Goodreads are starkly divided. Once I let go of things making sense and just went with the dreamy quality of the story I enjoyed it a lot more.
I'm counting In the House as book two of five for the KC Library's Love on the Rocks Adult Winter Reading Program.
Listened to audiobook from January 13 to February 5, 2015.