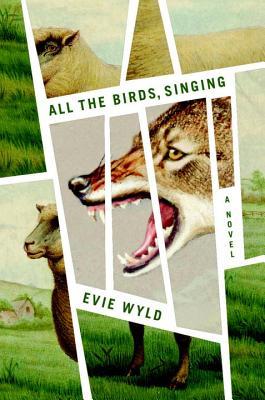 I've had my eye on All the Birds, Singing by Evie Wyld for several months now. I started it on audio late last month, but ran out of time before my borrowing period from the library expired (and I couldn't renew it). After that, I put a hold on the hardcover and it came through last week! From Goodreads:
Jake Whyte is living on her own in an old farmhouse on a craggy British island, a place of ceaseless rains and battering winds. Her disobedient collie, Dog, and a flock of sheep are her sole companions, which is how she wanted it to be. But every few nights something—or someone—picks off one of the sheep and sets off a new deep pulse of terror. There are foxes in the woods, a strange boy and a strange man, rumors of an obscure, formidable beast. But there is also Jake's past—hidden thousands of miles away and years ago, held in the silences about her family and the scars that stripe her back—a past that threatens to break into the present. With exceptional artistry and empathy, All the Birds, Singing reveals an isolated life in all its struggles and stubborn hopes, unexpected beauty, and hard-won redemption.
I think I liked this better on paper than on audio. The narrator did a fine job, it wasn't that—but seeing exactly how Jake's past and present converge and the layout of the story was easier to follow on paper than audio. I thought alternating the chapters between past (written in present tense) and present (written in past tense) superbly built tension, and I had to find out the reason behind Jake's fleeing from Australia to Britain.
I found myself sympathetic towards Jake, while rooting for her redemption. The ending has left me thinking ever since I finished the book, which is always a good sign. There are some disturbing elements here, and moments of violence. Wyld's use of animals as symbolism (birds, sheep) was subtly and smartly done. I enjoyed the dark, mysterious atmosphere of All the Birds, Singing, but of course I gravitate towards darker material naturally. Wyld's prose is pretty dreamy and poetic at times, lending a mythical quality. I would definitely re-read this one day!
Read from January 12 to 16, 2015.