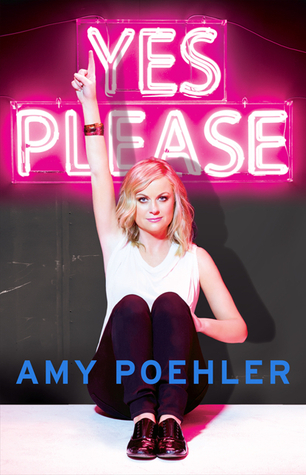 It's pretty rare that I end up buying a book the same week it is released, but with Yes Please by Amy Poehler I couldn't resist! From Goodreads:
In Amy Poehler's highly anticipated first book, Yes Please, she offers up a big juicy stew of personal stories, funny bits on sex and love and friendship and parenthood and real life advice (some useful, some not so much), like when to be funny and when to be serious. Powered by Amy's charming and hilarious, biting yet wise voice, Yes Please is a book is full of words to live by.
I ended up devouring nearly all 329 pages in one day, it was such a charming book and so hard to put down! I'm not sure I completely agree with the blurb above, though—"full of words to live by" and "real life advice." Some other reviews I read accuse Poehler of being preachy with her "life advice," but I didn't get that sense… I suppose there is a short section about sex tips, but it's all so humorous, it reads more like an "it's funny 'cuz it's true!" type of bit rather than Poehler actually advising on the subject.
Poehler both confirms my impression of her as a person and reveals herself more in Yes Please. I loved the chapters on her upbringing and family, and I thought she showed real class and integrity when describing her divorce. Poehler's down to earth, relatable, and endearing. I appreciated that she cops to her own foibles and errors in judgement, learning from them, admitting her privileges yet demonstrating her tenacity, ingenuity, and hard work along the way. One little grievance I have with the book, though… her repeated griping about how hard it is to write a book became tiresome.
I would love to reread this one day, preferably on audio next time, which I've heard is fantastic (although I'm glad I read it on paper, too, the photos really enhanced the experience for me). You're not going to find riotous humor or the most graceful prose necessarily, but it's really heartfelt and a delightful, enjoyable read overall. Any fan of Poehler will be a fan of this book.
Read from October 31 to November 2, 2014.