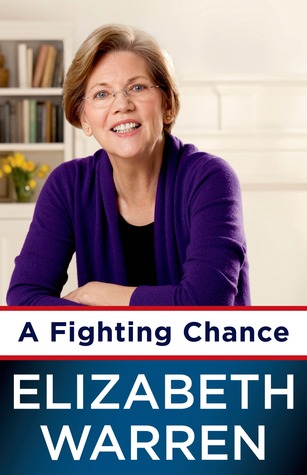 Since my orchestra rehearsals started up several weeks ago (two per week, about a hour round-trip in the car each) I needed a new audiobook for the road. I'm so glad I picked A Fighting Chance by Elizabeth Warren! From Goodreads:
As a child in small-town Oklahoma, Elizabeth Warren yearned to go to college and then become an elementary school teacher—an ambitious goal, given her family's modest means. Early marriage and motherhood seemed to put even that dream out of reach, but fifteen years later she was a distinguished law professor with a deep understanding of why people go bankrupt. Then came the phone call that changed her life: could she come to Washington DC to help advise Congress on rewriting the bankruptcy laws?
Thus began an impolite education into the bare-knuckled, often dysfunctional ways of Washington. She fought for better bankruptcy laws for ten years and lost. She tried to hold the federal government accountable during the financial crisis but became a target of the big banks. She came up with the idea for a new agency designed to protect consumers from predatory bankers and was denied the opportunity to run it. Finally, at age 62, she decided to run for elective office and won the most competitive—and watched—Senate race in the country.
In this passionate, funny, rabble-rousing book, Warren shows why she has chosen to fight tooth and nail for the middle class—and why she has become a hero to all those who believe that America's government can and must do better for working families.
LOVE HER. Elizabeth Warren is my new hero. I already loved her before this book, but even more now. She's exactly the kind of politician we need more of in America: an assiduous advocate for the rights of the country's citizens, not a bought-and-sold puppet to financial and corporate institutions who have shamefully turned our country into an oligarchy ruled by plutocrats. I would vote for her for any office in a heartbeat.
Warren's memoir weaves her personal and professional lives together in a straightforward, approachable way. I feel like I have a much better understanding of Dodd-Frank, the Consumer Protection Agency, and more. No matter the subject, politics or family, Warren conducts herself with integrity and honesty, acknowledging any failings and blunders as she navigated the election process and being in the public eye. Her passion, dedication, and tenacity through her political journey is inspiring. She doesn't mince words on what has gone down in the States:
I will be grateful to my mother and daddy until the day I die. They worked hard—really hard—to help my brothers and me along. But we also succeeded, at least in part, because we were lucky enough to grow up in an America that invested in kids like us and helped build a future where we could flourish. Here's the hard truth: America isn't building that kind of future any longer. Today the game is rigged—rigged to work for those who have money and power.
Preach it, sister. On audio, listening to Warren narrate her own story made experiencing this book even better—she's a down-to-earth, genuine person just like the real, everyday people for whom she fights. Oftentimes I felt she was talking right to me, like she's on my side, and I was actually kind of sad when I finished the book. What an awesome companion on my commute these past few weeks! Easily one of the best books of 2014 for me.
Listened to audiobook from September 18 to October 5, 2014.