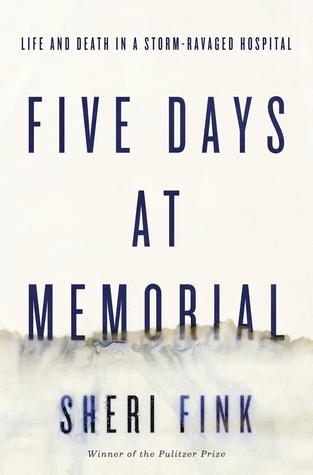 I recently finally read one of the books from my 2013 retail therapy bender, Five Days at Memorial by Sheri Fink. From Goodreads:
In the tradition of the best investigative journalism, physician and reporter Sheri Fink reconstructs five days at Memorial Medical Center and draws the reader into the lives of those who struggled mightily to survive and to maintain life amid chaos.
After Katrina struck and the floodwaters rose, the power failed, and the heat climbed, exhausted caregivers chose to designate certain patients last for rescue. Months later, several health professionals faced criminal allegations that they deliberately injected numerous patients with drugs to hasten their deaths.
It took me forever to get through this one, and it took me forever to write this review! I'm not sure what the deal was with Five Days at Memorial for me. This kind of subject matter is usually right up my alley—survival, tests of humanity and society, etc. I just had trouble becoming completely immersed. I may have been in a bit of a slump in September, though—my schedule and workload really amps up when summer ends, and I admit to being overwhelmed with the shift this time. Anyway, it was interesting and well written enough for me to finish.
I found the first and last thirds to be especially fascinating, first the harrowing situation the people found themselves in, and finally the tense legal battles. The middle section dragged for me, and I can't quite put my finger on why (my "real life" stuff could easily be the culprit). I remember noticing quite a bit of repetition, but it did make sense to repeat some things in context (differing accounts of the same act, etc.).
Fink's research is exhaustive and apparent, and for the most part fair and balanced. The book delves deeper into the history of the hospital, the lives of the individuals involved, and the aftermath of the disaster than I would have ever expected. However, I'm not sure it was entirely without bias… it could just be how I read it, but I felt like Dr. Pou was portrayed at times as heroic and other times was demonized for her alleged actions.
I learned so much about disaster preparedness for places like hospitals, and I did get a sense that the doctors and nurses truly were doing everything they could to help their patients in the face of little resources. I did appreciate that Fink doesn't drive home any specific conclusion or "lesson" here, especially on the topic of human euthanasia. The main point, I think, is that life is not all black and white, strictly right or wrong—it is all grays and subjective and feelings, and that's what these people faced during Katrina in Memorial. It's a great read—powerful, gut wrenching, informative, and thought provoking. I definitely recommend it, but only when you have the time to really dig in (unlike me, ugh)!
Read from September 7 to 28, 2014.