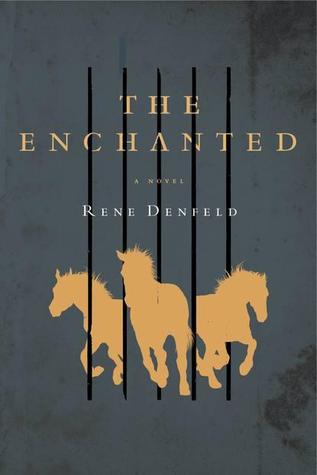 My second vacation read was The Enchanted by Rene Denfeld. This book has been popping up everyone online lately—I couldn't resist and treated myself to this one right before I left. From Goodreads:
The enchanted place is an ancient stone prison, viewed through the eyes of a death row inmate who finds escape in his books and in re-imagining life around him, weaving a fantastical story of the people he observes and the world he inhabits. Fearful and reclusive, he senses what others cannot. Though bars confine him every minute of every day, he marries magical visions of golden horses running beneath the prison, heat flowing like molten metal from their backs, with the devastating violence of prison life.
Two outsiders venture here: a fallen priest, and the Lady, an investigator who searches for buried information from prisoners' pasts that can save those soon-to-be-executed. Digging into the background of a killer named York, she uncovers wrenching truths that challenge familiar notions of victim and criminal, innocence and guilt, honor and corruption-ultimately revealing shocking secrets of her own.
I'm not sure why, but I've dragged my feet on writing this review for days. Don't get me wrong—The Enchanted was a great book. I think any words I use will be insufficient to accurately describe how a book could so beautifully take on the ugliness of a controversial subject.
Denfeld's prose is simple, yet exquisite. It's delicate, haunting, heartrending, and quiet, hinging on poetic even. The altering viewpoints were smooth and not distracting, as often they can be (the book switches between the death row inmate's first-person narration and third person). The inmate is an especially fragile character, with an innocence and otherness to him but also a cryptic aura. But all the characters broken, tragic creatures aching to be seen… or not seen in some cases. The Enchanted has an ethereal, floaty vibe but once in a while will mention something horrifically real and slam you right back down to earth.
The Enchanted doesn't detail the crimes the inmates committed so focus is taken off the crimes, the victims, and their families. The reader is left to imagine what the inmates may have done to land on death row, and for me that was fine—I didn't feel like the book needed to go into it to be successful.
I probably could have devoured this book in one sitting, had I a good chunk of free time (I read it during my vacation in Hawaii—yes, there was free time, but it was filled with fun family activities mostly!). I'm sure one day I will read this again.
Read from August 21 to 25, 2014.