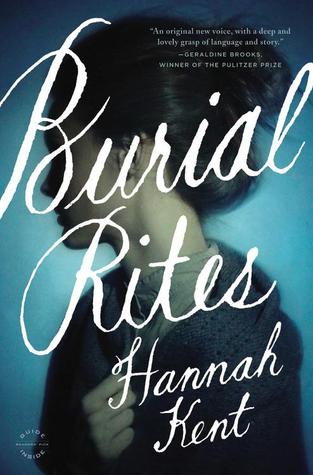 Last week I picked a book from my 2013 book-buying binge (retail therapy due to a stressful move…) to read, Burial Rites by Hannah Kent. From Goodreads:
Set against Iceland's stark landscape, Hannah Kent brings to vivid life the story of Agnes, who, charged with the brutal murder of her former master, is sent to an isolated farm to await execution.
Horrified at the prospect of housing a convicted murderer, the family at first avoids Agnes. Only Tóti, a priest Agnes has mysteriously chosen to be her spiritual guardian, seeks to understand her. But as Agnes's death looms, the farmer's wife and their daughters learn there is another side to the sensational story they've heard.
I thought Kent handled balancing fact and fiction quite nicely; she paints an empathetic, portrait of a plain woman who struggled and had real feelings but has been historically regarded as an evil, heartless witch. It's historical fiction based on real events and people. My knowledge of Iceland is extremely limited, and I had no idea about the last death by capital punishment in the country. Burial Rites is a dark, speculative look at this period.
I do wish the characters were a little more three-dimensional, but I liked the developed arc for Margrét, matriarch of the family with whom Agnes stays before her execution. The landscapes, weather, and lifestyles of Icelanders in the early nineteenth century were bleak and hauntingly presented, giving the whole book a very atmospheric vibe.
Burial Rites is a beautiful debut. Kent's prose is utterly moving and poetic here, with a quiet intensity that made this book a page turner. Her writing has a grace and maturity about it that makes me excited for what she may come up with in the future. Great book, highly recommend!
Read from August 5 to 10, 2014.