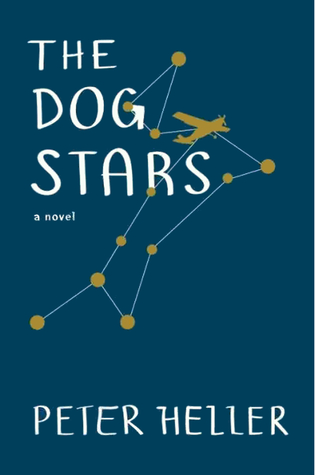 Oh my gosh! I meant to write more reviews weeks ago but between traveling, Fringe Fest, and then I just got a mild cold (boo), I now have some catching up to do. Last month on our drive to Wisconsin, Nick and I listened to The Dog Stars by Peter Heller on audiobook. From Goodreads:
Hig somehow survived the flu pandemic that killed everyone he knows. Now his wife is gone, his friends are dead, and he lives in the hangar of a small abandoned airport with his dog, Jasper, and a mercurial, gun-toting misanthrope named Bangley.
But when a random transmission beams through the radio of his 1956 Cessna, the voice ignites a hope deep inside him that a better life exists outside their tightly controlled perimeter. Risking everything, he flies past his point of no return and follows its static-broken trail, only to find something that is both better and worse than anything he could ever hope for.
We both enjoyed The Dog Stars. I looked at some other reviews online and noticed lots of comparisons to Cormac McCarthy's The Road, which seems apt for the general subject matter. It's not quite as memorable as The Road, though—not as gut-wrenching. Another thing I discovered in reading the reviews online was that Heller's writing is extremely "writerly" and stylized—stream-of-consciousness, fragmentary sentences. I didn't notice this listening to it on audio! I wonder if I would have stuck with it on paper…? Although once in a while some of the descriptions of nature and his past were kind of romanticized. Dude likes to fish a lot, I can tell you that.
But we did stick with it on audio. I thought the first half was a lot stronger than the ending (which I won't spoil here). I found the premise (deadly flu pandemic) believable, as well as the "kill or be killed/survival of the fittest/trust no one" attitude in the ensuing years. The dog? Well… I actually profoundly dislike dogs and have zero interest in them so personally that whole relationship I could take or leave. But I do like post-apocalypse novels so that's what drew me in. I thought the characters were well drawn out, for example Hig is emotionally damaged and depressed while Bangley seemingly thrives in this rough dystopia. No doubt there would be both types in such a situation.
I'd say it's not a blow-you-away novel, but one worthy of a read, especially if you like post-apocalyptic fiction. I think it could have been a little more gritty and dark overall. Not a bad debut and I'd probably one day check out his newer one, The Painter.
Listened to audiobook from July 9 to 13, 2014.