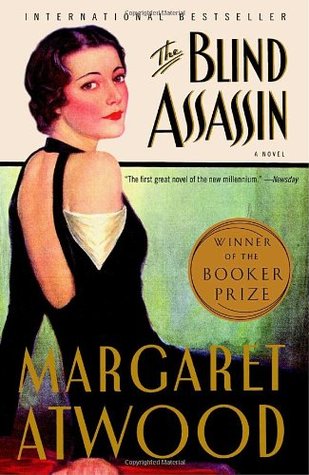 It took me more than five weeks to finish Margaret Atwood's The Blind Assassin! I was surprised it took so long to get through—I love Atwood. This was on my TBR Pile Challenge list this year. From Goodreads:
The Blind Assassin opens with these simple, resonant words: "Ten days after the war ended, my sister Laura drove a car off a bridge." They are spoken by Iris, whose terse account of her sister's death in 1945 is followed by an inquest report proclaiming the death accidental. But just as the reader expects to settle into Laura's story, Atwood introduces a novel-within-a-novel. Titled "The Blind Assassin," it is a science fiction story told by two unnamed lovers who meet in dingy backstreet rooms. When we return to Iris, it is through a 1947 newspaper article announcing the discovery of a sailboat carrying the dead body of her husband, a distinguished industrialist. Brilliantly weaving together such seemingly disparate elements, Atwood creates a world of astonishing vision and unforgettable impact.
I love everything I've read by Atwood so far… except The Blind Assassin. I just wasn't ever sucked in an swept away completely. You know how sometimes you can get so entirely wrapped up in a book that the outside world falls away? Yeah that didn't happen this time for me. I also pretty much had the end-twist figured out about halfway through. I didn't really connect with any of the characters—they're all pretty pretentious, entitled, and generally unpleasant people.
BUT. I did indeed enjoy many parts of it. I found myself more invested in Iris and her story than the two lovers and the sci-fi stories within. And of course, being an Atwood book, it does have her signature brilliant prose, which is always enjoyable to read. The structure and premise of the story within a story within a story is very cool and does work. (Meta.)
I'm not giving up on Atwood! I still love her, she's still one of my all-time favorite authors. The Blind Assassin was just unlike anything I've read from her before. It's a super-slow downward spiral that I just slogged through. I wonder if it wasn't for my TBR challenge if I'd even have finished it. But there was something about it that compelled me to keep reading, so there's that. It kind of read like a Classic, even though it was published in the twenty-first century!
The Blind Assassin is my third of twelve books read for the 2014 TBR Pile Challenge.
Read from May 1 to June 7, 2014.