It's Monday, what are you reading?
A weekly blog meme hosted by Sheila at Book Journey.
Ladies and gentlemen, THE BOOK THAT NEVER ENDS: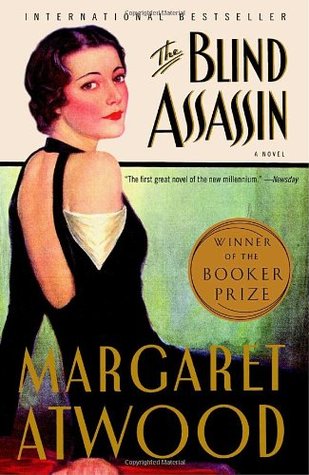 Yes, I am still (always, forever) working on The Blind Assassin by Margaret Atwood. I started it on May 1. It is now June 2. I'm about 65% done (as of today). At least I'm over the halfway mark! (right??) Ugh. I just don't know what's up with me lately—why I'm taking so much longer than I used to with books. I really love Atwood, this shouldn't be taking me more than a month to get through.
Could it be that I'm still recovering after possibly the most hellish semester yet? Still grieving my grandmothers' deaths this year? Just too danged busy with other regular-old life stuff? I really have no idea. But at least with this Atwood, it is kind of unlike her other work that I've read, and in a genre and setting I'm pretty unfamiliar with and have mostly stayed away from (noir-ish, somewhat aristocratic, feels like reading one of the classics). There is a LOT to like here, though, and I really want to finish it (even though I am pretty sure I know how it might play out in the end by now). GRRRR! Atwood, dammit. I love you. But this is maybe ultimately not the one for me.
Also, recently my husband asked me to find him some dark, disturbing dystopian books so I'm finding myself getting attracted to that genre at the moment in my searches. Itching to read a messed up dystopian novel does not jive with getting through The Blind Assassin very well! I'm finding myself impatient to finish it so I can move on to other things.
What are you reading this week?