It's Monday, what are you reading?—a weekly blog meme hosted by Sheila at Book Journey.
I know I've been absent from the internet for a while, the last couple of months… mostly it has been because of how busy I was with work, and the other more recent reason is that my last living grandparent died about a week and a half ago. I loved my grandparents so much, and still do—they were wonderful, strong, special people in my life and for countless others. My dad's dad died in 1957, but my mom's dad was with us until 2009. I am still in a little disbelief that I lost all three in just five years, and both grandmothers in the last six months.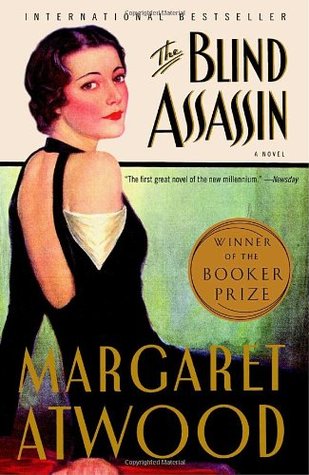 I just got back from Wisconsin late last week from the funeral, my orchestra season ended on Saturday, and now at work it's the final week of classes so I'll be able to get back into reading and posting more during the summer. It will be a welcome relief.
When I was in Wisconsin, my aunts found the last book Gramma read and gave it to me: When Pride Still Mattered by David Maraniss, the biography of famed Green Bay Packers coach Vince Lombardi. I read it earlier this year with my library book group, but didn't own a copy for myself. I'm so touched they gave it to me! And then I just think it's amazing and heartwarming for this Wisconsin girl that my two Wisconsin grammas closed their lives with Packers involved: Gramma Reed passing away literally minutes after a Packers win in October, and Gramma Frances's last read was a Packers coach biography. Incredible.
Oh, and this weekend I finished The Round House by Louise Erdrich and started The Blind Assassin by Margaret Atwood, one from my TBR Pile Challenge.
What are you reading this week?